(Last Updated On: November 18, 2023)
The Norwegian language is challenging and only experienced translators should work with it for professional purposes. Using Norwegian language translation services will help your company work with Norwegian clients and prosper.
Benefits of Using Norwegian Language Translation
Norway offers excellent opportunities for developing a business. Also, you might have Norwegian clients or local partners who will have to communicate with you. If you use quality Norwegian translation services, you will be able to work with Norwegian companies.
Foreign languages open new gates for your business. If you want it to expand and develop in Norway, you are going to need business translations services.
The Role of Norwegian Translation for Expanding Your Business
If you decide to expand your business in Norway, you will need quality translation. Expanding the business requires numerous contacts with your new partners. That is why you should be able to communicate with them effectively. No mistakes are wanted in business communications, so you need to work only with reliable translation companies.
Steps to Find New Clients
If you plan to find Norwegian clients, you need to translate your advertising materials in Norwegian. Your company should be presented in the local language if you want to have real chances for business success.
The next essential step is to make a Norwegian version of your website and translate all of the website content in Norwegian. Your new clients should be able to find information for your products and services in their own language. Using Norwegian language translation will help you provide the information about your company in the local language. Also, if you receive an inquiry from a client, respond quickly in Norwegian and give the requested information. This will create the positive impression that your company needs for its success on the new market.
If you need accurate translations from and into Norwegian or any other language, get in touch. We provide high quality translations for just about any language or field, at affordable rates.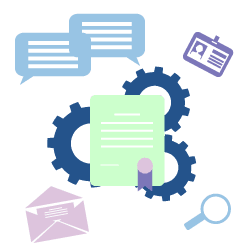 Norwegian Language Translation
Norwegian language translations can be a substantial element in any business. If your target audience resides in Norway, Norwegian translation services can really turn around your content. There is no other way to convey your message to the Norwegian customer than using a quality translation service for all your advertisement and marketing requirements.
However, just putting English words into Norwegians won't be enough. Just like you want your English content optimized, you'll want your Norwegian one to be fully optimized as well. Our Norwegian translators are the specialists in Norwegian language and the use of business terminologies to make your content shine out of the ordinary.
We can even help you with your social media posts, announcements, flyers and more. We knows ways to keep you connected with the people that matter for your business. Intrigued? give us a call or text us on our live chat option now!