Our English to Swedish translators
NordicTrans is the number 1 Nordic translation service provider in the world today, with in-house professional native translators like the English to Swedish translators. Specializing in Nordic or Scandinavian languages, NordicTrans is the largest Nordic translation agency in both Europe and United States. We translate any kind of projects of any size and language specification at the best prices in the market.
One of the languages we specialize in translating from and into English is the Swedish language. At NordicTrans, we only work with native speakers of your target language as translators and proofreaders; in order to provide the highest quality and accuracy that our professional translators produce for every translation project. Our translators are always ready to accept any project from you and will deliver it in a timely manner.
We will only assign the best fitted translators to your job. If you need translation from English into Swedish, we will assign 2 Swedish native linguists which have a solid background in your industry, to your project. The first English to Swedish translator will translate the document and the second will proofread the translation. After that, the output is being verified by our quality assurance team which finally delivers it to you along with a quality report.
Why NordicTrans is the perfect choice

Professional linguists
Whether you need Swedish linguists or professional translators for any language or language combination you can always trust NordicTrans will have what you need. Our team comprises over 3,000 professional translators and proofreaders which can translate any document fast and accurately.

Accurate translations
With us you don't only get one translator to the task. We always use 2 linguists with each project where the second proofreads the translation done by the first, making sure there are no omissions or mistakes. And yes, the translators will be natives of your target language, and specialized in your field.

The cheapest in town
They say that you get what you pay for, yet with us it isn't like that. We may be the cheapest around, but we also provide high quality translations and outstanding customer support. Get in touch with us and see how you can get fast and accurate translations at the lowest rates you can find.
Only professional Swedish translators
Since its birth in 1999, NordicTrans has partnered with only the best translators and proofreaders in order to provide its customers with the most accurate and high quality English to Swedish translations. Those English to Swedish translators always adhere to the commitment of providing high standard and high quality accurate translations.
Our English to Swedish translators at NordicTrans are recognized by the International Standard Organisation (ISO) and thereby follow the standards implemented by the organisation to ensure quality assurance for translation services rendered. With over 19 years of experience in the industry, our linguists are now professional Swedish translators willing to serve you anytime, anywhere.
Moreover, our translators strictly comply with project deadlines for ultimate customer satisfaction, which entitles our every customer to high quality Swedish translation services delivered on time and with the most affordable prices. Customer satisfaction and quality assurance are our top priority and our guarantee for our clients all around the world.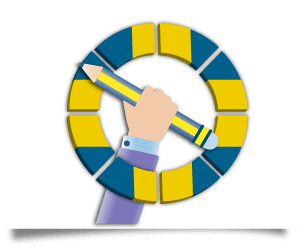 Some reasons to work with us
High Quality yet affordable services
We render our Swedish translations with precision and quality guaranteed by our expert and professional English to Swedish translators. We offer our services at affordable rates with no hidden fees or additional charges for rushed projects and those done during weekends. No matter how large or small your Swedish translation project may be, we can work it out for your advantage.
Own-made project management system
Do take advantage also of our very own web based project management system specifically designed for all our customers' needs. We render online live quotations and invoicing for all your Swedish translation needs. You will get your quotes and prices in just a few clicks and you can monitor the progress of your translation projects.
Live chat
We also have live, online communication on our website manned by our customer service representatives and project managers, who are directly working with our in-house English to Swedish linguists. They are always ready to answer all your queries all the time.
Translations from Swedish into any language
We don't only provide English to Swedish or Swedish to English translation services, we do much more than that. More often then not, you may need to translate from Swedish into any other language, like Norwegian or Danish. We do that too. The first thing we do is to ensure that we do have linguists that can translate directly. If there aren't any, we will use English as a middle language, and have 4 translators working on your project instead of 2.
Our Swedish translators also work with CAT tools. If you're using translation memory, or need to have your translation added into a CAT tool, get in touch. Most of our translators are well acquainted with the major computer assisted translations outthere, including Trados and MemoQ. If you haven't used computer assisted translation tools and translation memory before, but you have ongoing projects, you may want to consider using them, as it will save you money in the long run, by being able to re-use past translations into current projects.
If you need accurate translations from and into Swedish, get in touch: we only provide high quality translations at affordable rates and we work around the clock!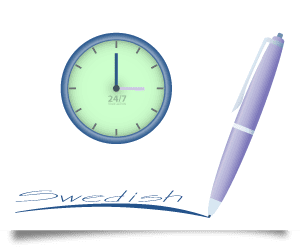 We guarantee highly accurate translations
NordicTrans is not just a translation company; it is a team of project managers, web and DTP specialists and professional translators, skilled and trained to translate any text into and from Nordic languages. One of our specialties is the high-profile Swedish translations service.
Nordictrans was born in 1999 with an unwavering aim to bring accurate translation services at low rates at our client's fingertips. Put your trust in us and we will fascinate you with the quality we put not only in our translations, but also in our customer support. We provide in-house, best Swedish translation services all around Europe and USA.
Our translation steps that ensure high accuracy
Translate
First, our one of the ISO recognized translator would translate your text analyzing your target audience and hence, nourishing the document with the suitable vocabulary.
Proofread
Secondly, our proof-reader would analyze the width and breadth of the text and make sure the translation is accurate and retains its intended meaning.
Quality assurance
Thirdly, the document is processed under the skills of our quality assurance team.
Order dispatched
Lastly, we dispatch you the final copy of the translated document along with the quality report.
Later edits
If at any later time the client is not happy with the translation we will quickly re-open the project and our translators will work on it until it meets client's requirements.
Highly trained, professional Swedish linguists specialized in their fields of expertise
NordicTrans has translators ready to serve you in various areas like:
Our linguists provide high quality output for the following services:
Localization Services
Subtitling Services
Whether your Swedish translation needs are for business, legal, professional, and/or personal purposes, trusting our English to Swedish translators will surely make a difference. Since our primary concerns are quality assurance and your satisfaction, you can rest assured that we always adhere to the highest standards of accuracy and quality. On top of regular contact by email, phone and office visits, NordicTrans also provides the option to live chat with our highly trained project managers where you can ask any question in regards to your translation project, our professional translators, and what we can do for you, and we are available around the clock.