Our English to Swedish translators
NordicTrans is the number 1 Nordic translation service provider in the world today, with in-house professional native translators like the English to Swedish translators. Specializing in the Nordic or Scandinavian languages, NordicTrans is the largest Nordic translation agency in both Europe and United States. We translate any kind of projects of any size and language specification at the best prices there are in the market now.
One of the languages we specialize in translating from and into English is the Swedish language. At NordicTrans, we only work with native speakers of your target language as translators and proofreaders; in order to provide the highest quality and accuracy that our professional translators produce for every translation project. Our translators are always ready to accept any project from you and will deliver it in a timely manner.
Only professional Swedish translators
Since its birth in 1999, NordicTrans has partnered with only the best translators and proofreaders in order to provide its customers with the most accurate and high quality English to Swedish translations. Those English to Swedish translators always adhere to the commitment of providing high standard and high quality accurate translations.
Our English to Swedish translators at NordicTrans are recognized by the International Standard Organisation (ISO) and thereby follow the standards implemented by the organisation to ensure quality assurance for translation services rendered. With over 15 years of experience in the industry, our linguists are now professional Swedish translators willing to serve you anytime, anywhere.
Moreover, our translators strictly comply with project deadlines for ultimate customer satisfaction, which entitles our every customer to high quality Swedish translation services delivered on time and with the most affordable prices. Customer satisfaction and quality assurance are our top priority and our guarantee for our clients all around the world.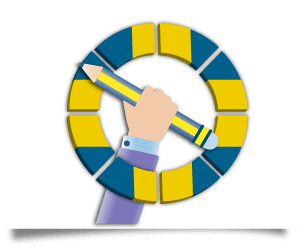 Some reasons to work with us
High Quality yet affordable services
We render our Swedish translations with precision and quality guaranteed by our expert and professional English to Swedish translators. We offer our services at affordable rates with no hidden fees or additional charges for rushed projects and those done during weekends. No matter how large or small your Swedish translation project may be, we can work it out for your advantage.
Own-made project management system
Do take advantage also of our very own web based project management system specifically designed for all our customers' needs. We render online live quotations and invoicing for all your Swedish translation needs. You will get your quotes and prices in just a few clicks and you can monitor the progress of your translation projects.
Live chat
We also have live, online communication on our website manned by our customer service representatives and project managers, who are directly working with our in-house English to Swedish linguists. They are always ready to answer all your queries all the time.
Highly trained, professional Swedish linguists specialized in their fields of expertise
NordicTrans has translators ready to serve you in various areas like:
Our linguists provide high quality output for the following services:
Localization Services
Subtitling Services
Whether your Swedish translation needs are for business, legal, professional, and/or personal purposes, trusting our English to Swedish translators will surely make a difference. Since our primary concerns are quality assurance and your satisfaction, you can rest assured that we always adhere with the highest standards of accuracy and quality. Get a free quote now and give us a try.