(Last Updated On: July 28, 2020)
There are various fields in the world to pick from, and the internet has only increased the number of options available to us. Today, you can do everything from the comfort of your home. The benefits that the internet offers to those who love doing everything from home aren't limited to online shopping. You can even work from home and set up your office in one corner of your room. There are a lot of reasons why someone would choose to work from home. It does have its benefits, after all. But more so for those who can't leave their home every day. Some people perform well when they are away from others, while some prefer to work in an office.
Translation Industry and Freelancing:
One of the fields that always have an ever-growing need for experts in translation. The language industry will not ever fade away. It is very important for the smooth working of things. Without it, the world would be in a state of chaos. Misunderstandings between nations would become common when they aren't able to understand each other. But thankfully, we don't live in a world without translation. However, there are many problems related to the field that both clients and workers have to face.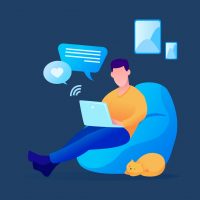 Freelancing in translation is very popular because before there were agencies, there were independent translators and interpreters. Such people went with militaries to warzones and helped them communicate with natives and the prisoners of war. However, as the demand for translation increased, and businesses turned to it with their expansion plans, the number of experts in the field also increased. This is why there are a lot of translators today, and it is not always easy to find an expert straight away because of the inexperienced people working in the field.

When someone decides to become a translator, they have two options in front of them: they can either join an agency or work as a freelancer. Although there are pros and cons of both options, here are the advantages you will get to benefit from if you become a freelancer:
If you would rather be the authority figure instead of answering to one, then you should become a freelancer. You will be your own boss, and you won't have to answer to anyone. You can make up the rules you want and decide what should be your working hours. You don't have to take the projects you don't want simply because they are offered to you. You will be able to say no whenever you want. You will also be able to control the quality of your work when you decide to be a freelancer. If you are the only one handling a document, you can decide its final shape.
Not having fixed working hours is not the only flexible part of freelancing. When you don't have a desk job, you can work anywhere you want. You can soak up the sun in the garden on a sunny day and let your fingers run on the keyboard while you work on the latest project. You can even travel while working as long as you have your laptop with you. You get to decide when you will take on the next project and how long you will need to finish it.
Although you can't set the rate of your choice in the beginning, once you become known in the field, you can change the prices. However, you can control how much you earn right from the start by taking on as many projects as you want. There are many freelancers who work 24/7 for a couple of months and then take a month off to go on a vacation. It is quite a relaxing set up when you can plan ahead easily. But you will have to work hard to be able to achieve this lifestyle. You can't earn as much as you want if you are not ready to provide quality work to all of your clients. Because above all, you will have to keep your clients satisfied if you want to get work regularly.
No Geographical Limitations:
When you find work through the internet, you won't be restricted by geographical limitations. You can get clients from anywhere in the world. You will be able to reach out to a global audience if you join freelancing forums and attract the attention of people who require linguistic assistance. Another benefit of global reach is that you can also apply for freelancing jobs with any company in the world. If there is an upcoming home-based project for a foreign company, you can apply and start working from the comfort of your bed.
There are a lot of reasons why freelancing attracts people. However, it is wise to think hard about all the available options before making a decision. There are agencies that offer the same type of flexibility to their translators that comes with freelancing. You can also earn a steady income with such companies. But at the end of the day, it comes down to what you feel comfortable with. If you are going with down the freelancing path, do your research about the online platforms, make up a proper plan, and then enter that world. When you are prepared to face the challenges of the field, you will be able to become successful a lot easily.