(Last Updated On: January 3, 2021)
English To Norwegian Translation Audio. How Does This Work?
Audio translation is a very broad industry. While some people might understand it as a simple transcription of audio files into text, this particular industry covers quite a handful of services other than that.
Most of the time people will confuse audio transcription to audio translation. While the two might sound completely the same, these two services have a number of specific differences. First, audio transcription is just a simple task of transcribing audio files into text files. The most common of this is court and medical audio transcriptions.
On the other hand, audio translation is a little bit different than ordinary transcription. Audio translation means that the audio file is translated into a different language. Sometimes client also requires the translated audio to be transcribed into text.
One example is English to Norwegian Translation Audio which we were at Nordic Trans offers. A client will send an audio file in English. What we do is translate that into Norwegian. Sometimes clients will also ask to transcribe the Norwegian audio file into text. Both services are considered audio translation and in this particular example, an English To Norwegian Translation.
Who needs Audio Translation services?
While the industry itself is quite niche, a lot of industries require audio translation services. English movies and TV shows which are slated to be released in different countries are sometimes dubbed into the language of that particular country. That requires an Audio Translation expert. This is what many experts call "localization industry."
Movie and TV producers need to design their products in such a way that it will appeal to the local consumer market. Due to rapid globalization, goods and services from one country can now be easily accessed to other regions. However, some consumer markets prefer products to be in their native language, rather than the language where the product originally came from. This is where Audio Translation services come into the picture.
Voice-Over Audio Translation
Voice-Over audio translation is used in translating a content into a different language. As more and more consumers demand to have products and services to be in their native language, the demand for voice over audio translation have also skyrocketed.
English to Norwegian Translation Audio might sound like a pretty straightforward job. On the contrary, it requires mastery of both languages and their difference. When doing this kind of translation, one must put into account that both languages have different tone, grammar rules, sentence structure and parameters.
Take this for example. The Norwegian phrase for Please is "Vær så snill." A single syllable English word needs to be translated into a four-syllable Norwegian phrase. This get pretty complicated when doing voice-over especially for movies and TV shows where you have to make sure that the audio will synchronize with what the viewer is watching. As such, it is the job of a voice-over audio translation expert to make this happen, and make sure that it is properly done.
Book Audio Translation
People who are fond of reading will be quite familiar with how this particular service works. Book Audio Translation is basically used when translating a book to a different language and format. For example, a French book needs to be translated into an audio book in the Spanish language. What this entails is that the book will be first translated into Spanish and then record into an audio format. This is a very common service as more and more people adopt audio books that are translated into their native language.
English To Norwegian Translation Audio. How Does It Work?
Here at NordicTrans, we provide audio translation services that cover more than 100 languages and dialects from around the world. One of which is English to Norwegian and it is quite a simple task when performed by one of our highly-trained and well-experienced native translators.
First, our client needs to inform us what type of translation audio they want to be done. We have a wide range of audio translation services covering voice-over translations, audio translations for subtitles and captions, as well as audio transcriptions.
If you have a multi-media website that needs to be localized in Norway, we can provide audio translation solutions to all your videos in order to make your website more appealing to the local consumer market.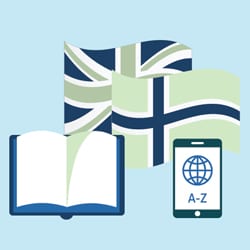 If you are an entrepreneur looking to sell your English books into Norway, we have a number of translation solutions to localize your product. We can translate your books into Norwegian and then record that for you to be able to sell an audio book version of it.
If you are a filmmaker or TV producer and you want to localize your movie to appeal locally, we have all the necessary tools to make it happen. We do high quality voice-over translations, subtitle, and captioning services. We have provided these services to hundreds of foreign filmmakers and producers localizing their materials in order to fit the unique sensibilities of Norway.
Customer Satisfaction
All our claims are backed by an extensive customer satisfaction review made by many of our clients. These are testimonials and reviews that highlight the strengths and diversity of our service. We have processed thousands of audio translation and transcription services to clients from all over the globe.
These customer satisfaction reviews are testament to our company's commitment in bringing affordable, high-quality, and accurate English to Norwegian translation audio to people.