(Last Updated On: November 17, 2023)
There are a lot of similarities between all the countries of the world. Some have the same government structure, and a few have similar economic systems. However, there are also a lot of differences between countries. People can notice the differences straightaway when they visit a foreign country. However, during trips, these differences do not affect people too much. But when someone immigrates to another country or move there for studies, they have to deal with those differences on a daily basis. They will have to make their budget according to the prices of groceries in that country. They will have to figure out housing. They must also find out everything about the job industry so they can get work that matches their qualification.
When someone moves to another country for studying or work, they have to get their documents in order and make sure all of them are in the right language. You can't submit a degree in Hindi to a university in the US and expect them to understand your level of qualification. When you decide to continue your studies in a foreign country, you will have to make sure you fulfill all of their requirements. Each country and its universities have different requirements, and without fulfilling them, you cannot study there.
When you apply to a foreign university, you will have to submit your documents too. However, your personal information is not the only thing an academic institution would be interested in. The most important thing for them will be your qualification, and for that, you will have to present your degree. But education systems are different everywhere. So, your bachelor's degree may not be equal to the same level of education in another country. If you are a graduate in your homeland, you may have to take a few extra exams to be considered the same in another country.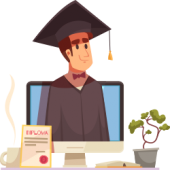 A degree evaluation is something that is absolutely necessary when you wish to get admission to an American university. In the US, students have to attend school for four years in order to complete their bachelor's. A master's degree can take one to two years. But the criteria for these degrees can be different in other countries. A degree or credential evaluation is the process through which studies completed in one country are compared with the education system of another. If the qualification of a person is not enough for them to enroll in a course, they are asked to attend extra classes. Without the evaluation, it will be impossible to get admission in the course of your choice.
How Does It Work?
There are multiple ways in which a student can get their credential evaluation. There are professional associations that regulate the process of evaluation. Professionals in the field must meet the criteria set by the associations if they wish to work in the field. In the US, universities also offer credential evaluations themselves. Students can submit their degrees and enter all the relevant details. They will have to pay a fee in order to obtain the results.
Evaluation is also required for immigration. In some countries like Australia, the government handles the process itself to ensure complete accuracy. However, you cannot submit your degree for evaluation without getting it translated. A professional in the US will not be able to understand the language on your document if it is not English. To make your degree eligible for evaluation, you will have to get its certified translation. You will have to submit the original document along with its certified translation if you want an accurate evaluation.
The translation of academic documents is a bit complicated to handle. Whether you need it for immigration or a student visa, your future will depend on it. You cannot take any risks by asking a bilingual friend for help or trying your luck with Google Translate. It is also important for you to understand what exactly a certified translation looks like. It is a type of translation that is accompanied by a signed statement of the translator. They attest to the accuracy of their work and add their contact details so people can reach out to them if there is any confusion.
It is important to find a reliable agency when you need a certified translation of an academic document. If you get in touch with an independent translator, you cannot be sure about their level of expertise. They may also know nothing about academic documents. If they have only dealt with personal immigration documents like the birth certificate, they will not be able to provide you with an accurate translation of your degree. And if you get an incorrect translation, it can affect your evaluation. Your admission to the university of your choice can be at risk if there are any problems with your documents.
Taking risks and handling things on your own can work out in your favor at times. But when a specific service is needed, you must only rely on experts. The translation industry is a pretty complicated field. It isn't something that everyone can do. Even something with a little experience in the field can mess up. This is why you must get in touch with a highly experienced professional if you need a certified translation of your degree. After that, you can get it evaluated and apply for admission at the university of your choice.