(Last Updated On: July 31, 2020)
Study from Denmark Abroad
Everyone in this world has dreams of their own and all of them matter even the unrealistic ones. Wanting to become a princess when you grow up may not be a realistic dream but it gives people the courage to think beyond the visible. They start believing in their self and develop hope for the future. It is very important in life to keep faith that you can do the things you want to do. Building your future is something that you will have to start today. But if you are scared to dream beyond the possible, you are limiting yourself before you have even begun.
Even the achievable dreams sound impossible to achieve when you are scared and want to give in. But if you keep on working for your future so you can see your goals turn into reality, the most difficult thing can become possible. No one becomes successful overnight. Presidents have to spend decades in politics to build trust with their party members and get support from their voters. Companies have to spend years to build a loyal client base that won't look towards other products for anything. Reaching the number one spot is something that everyone wants but only a few have the strength and courage to work for it.
When they get there and claim their number one spot, that is when they have truly defeated the doubters. A dream, whether it is big or small, is very important. It doesn't matter if you want to become the president or buy a house in a big city, you won't be able to achieve either without hard work. Even seemingly simple things like getting admission in a foreign university requires effort and dedication. It is not about the fee that you can pay but also your previous grades that can show your commitment to your goals.
Studying Abroad:
Studying in a foreign country is something that a lot of people who grow in underdeveloped countries dream of. They don't have the proper facilities in their countries and that's something that make them wish for better circumstances. There is also the fact that some departments are famous throughout the world and students of that field want to study under the experts of the subjects. Either way, it is a very common dream among ambitious students. And sure, not all of them will be successful in their pursuit of this dream but the ones who do will also have to follow a lengthy process before they can get accepted.
The complicated requirements often confuse students when they are applying for admission or study visa. The best way to get over this problem is by directly getting in touch with the visa department of that country and ask them about their requirements in detail. You can also get in touch with someone who had successfully gotten admission in that university in the past. A bit of guidance can go a long way when you have no prior experience with something.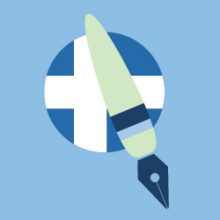 There are many reasons as to why someone would want to study in Denmark. For starters, it has top rated universities including the University of Copenhagen. The universities of Denmark offer scholarships and grants to their students frequently. There are also a few countries whose students get governmental scholarships in Denmark. Students from Europe can also get free tuitions if they fulfill a few requirements. Sure, the country can be an expensive place to live in, especially as far as housing is concerned, but money can be saved in other ways, for instance, biking to and from university and applying for scholarships.
Documents Checklist:
Studying abroad means getting a lot of your documents in order so you can show them to the visa office as proof of your past academic record. But studying in Denmark involves a lot of document checking. This is why it is important to know beforehand what you need to prepare so you can be ready when the time comes. Here is the checklist you need to tick in order to apply for your student visa:
Proof of language proficiency
Proof of visa fee payment
Proof of minimum fund
Acceptance letter from the university you will be attending in Denmark
An application form that has been filled and signed by you
Proof that you have adequate accommodation arrangements for your stay
Travel insurance
It goes without saying that you will also need to submit your passport and photo. But wherever you are applying from will not have Danish as their official language and therefore your documents will be in a foreign language that the officials can't understand.
When applying for student visa in Denmark, you will need to get all your documents translated. All your personal and academic paper will have to be translated by a professional translator so you can submit them with your visa application. Inaccurate translations are not accepted at this level and that's why certified translation is what you should be getting. Don't ignore any document when it comes to certified translation. All your degrees must also be translated accordingly. Get certified translation diploma if you have one.
Once you have gotten in touch with an agency or a qualified translator, you can let them handle the translations for you. When you receive the translations, you can go ahead and submit them to the embassy along with your passport to get your student visa.