(Last Updated On: June 22, 2020)
Origins of the Swedish Language
Swedish is part of East Scandinavian languages, which in turn represents a part of the North Germanic subdivision of the Germanic languages. It has its origins in the Old Norse. There are numerous linguistic similarities with Norwegian and Danish, which allows for basic interchange.  It is the official language of both Sweden and Finland and is used in Estonia. Nine million people worldwide speak the Swedish language and when immigrating to the UK they need Swedish language translation to English.
Historically speaking, the language evolved through three stages: Old Swedish, New Swedish, and the present Modern Swedish. Old Swedish  dates back to the middle ages of which a notable reference is a law document called Västgötalagen dating as far back as 1925. New Swedish language reached prominence in the 17th century as characterized by Gustav Vasa's Bible. With the influence of scholars and a host of cultural and industrial factors, Modern Swedish was formed which remains prevalent to date.  There is a more formal version known as Standard Swedish or "Rikssvenska", which assumes the status of the official language of Sweden and is utilized in the more formal media.
In structure, one would be hard-pressed to distinguish the Swedish language from the Germanic languages in the surrounding regions. The nouns are categorized into 5 declensions and  the verbs into five conjugations. It may be characterized as a well-defined language with the adjectives agreeing with the nouns and pronouns in number, definiteness, and case. For an outsider it would appear to be a tough nut to crack, but due to the similarities it should not be that daunting for the Germanics or the surrounding Scandinavians to pick it up readily. Swedish is one of the official languages recognized by the European Union and forms the bases of the Nordic Council.
Swedish language translation to English
There are numerous reasons why Swedish language translation to English is necessary, and one of them is immigration. Whenever you want to immigrate to the UK or US, you will need certified translation of your personal documents. Another reason why Swedish to English translation is needed is business expansion. Any Swedish business looking to expand its reach needs to first translate their website, their marketing materials and anything else related to their products in English.
Why would a Swedish business go into expansion? Probably the best reason for this is higher profits. Considering that a Swedish website is only addressing to about 9 million people and taking into account the potential reach after translating said website to English, it is quite normal for businesses to want to use professional translation services.
There is only one choice when it comes to translating Swedish and that is NordicTrans! We are able to call upon a full complement of highly trained native speaking staff. We cater to both the smaller entrepreneur as well as the large multinational. Quality is paramount and each translation is double-checked by a second Swedish native speaker, without exception. We are the largest Nordic translation company and we provide accurate translations from and into the Nordic languages since 1999, so you are sure that you are hiring reliable services.
We are proud members of the International Standard Organization (ISO), and we specialize in the Nordic Languages, including Swedish language. The diverse cultural and academic background of our translators allows them to adapt each translation to the specific needs of a very diverse global clientele. It really doesn't matter if your website is highly technical, legal or medical in nature, we do have the right translators for the task, and we'll also assign some of the best web engineers to adapt your platform and add the translations.
Whenever you need accurate Swedish language translation to English fast and at an affordable price, get in touch. Our project managers are available around the clock to answer any of your questions or to give you a free quote.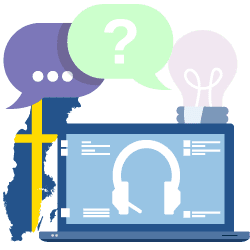 Swedish Language Translation to English
North American and Swedish collaboration is strong and close, with alliances and co-ops revolving around promoting and advancing Green initiatives. Swedish is a particularly exciting language because it is to a substantial extent mutually understandable with Norwegian and a lesser extent Danish. It is essential that if you do need Swedish language translation to English, it is carried out by someone who practices in the Swedish language and understands the culture of the country.
Swedish to English translation is needed throughout the exchange of information for a wide range of documents. Also, a blog has been set up by the embassy to strengthen partnerships between Sweden and the U.S. to support environmental goals. Blog stories may be written in Swedish or English. English is widely spoken among Swedes, but most Americans and Canadians do not speak Swedish. Swedish website translation and other Swedish to English translation is required for these activities.