(Last Updated On: November 15, 2023)
The world is divided between two people: those who believe in conspiracy theories and those who don't. But we can all agree that they are pretty interesting at times, it is just that one group take their interest way too far. They think that the world is far more bizarre than it seems. All of us know that our world is already pretty strange. More often than not, things happen that we can't explain using science or logic, and even if we could, it isn't like science is something easily understandable for the majority of the population. Which means even things that can be explained may appear to be strange at times. This is why some people find it easier to believe in conspiracy theories.
Some, however, only read conspiracy theories because of how interesting they are. They keep tabs on the bizarre things conspiracy theorists come up with and try to make sense of the thought process of people who think of such things. The fact that some old conspiracy theories turned out to be true also support those who believe in them and give them a renewed passion to try to convince everyone else that the world is run by lizard people.
There are some conspiracy theories that are way too strange and hilarious that they ended up becoming a meme. People use them sarcastically and make everyone else wonder whether they are being serious or not. This tactic is becoming fairly common on social media. Even YouTube celebrities take part in the practice and drop random theories during their videos to amuse people.
A fairly recent conspiracy theory that has garnered interests from all corners of the world and is basically a meme at this point is that Finland isn't a real country. Previously, people used to say the same thing about Australia. Some still believe and support that theory but now they have also added Finland to the mix.
But thankfully, this beautiful Nordic country is very much real and has a population of over 5.5 million. The land was inhabited in the year 9000 B.C., which means not only is it real but also a very old country. It is a very progressed country and known for the amazing standard of living it offers its citizens. It is also the world's happiest country, a title it also got the previous year too. This is another proof that its citizens get to live the best life.
Economically, the country follows the Nordic model of a welfare state which has resulted in a high per capita income for its population. It was the most stable country in the world from 2011 to 2016. It maintains a neutral policy in the United Nations and actively takes part in peace missions. It is also known for offering equality to its population regardless of their gender and the gender gap is almost non-existent in Finland.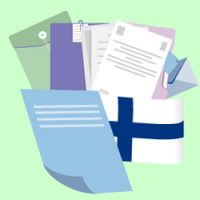 Finnish has 5.4 million native speakers, most of which live in their homeland. It does not share a lot of similarities with other Nordic tongues. It is spoken by ethnic Finns. Other people don't take interest or study this tongue, which is why it could become a threatened tongue if the Finns start giving English preference over it.
One very interesting thing about Finnish is that the oldest text found in it is actually a spell. It is impossible to interpret it accurately due to many differences from the modern version of the vernacular but every linguistics expert is certain that it is a spell.
Where Does the Finnish Language Origin from?
Origin stories, whether they are of a superhero or a people, are always interesting. But there were always those superheroes who never knew where they came from. Some lost all the memory of their childhood and had to search for answers for years before they could live their life peacefully. The world and its people have been around for a long time, which means there will be issues with some of our origin stories. There are cultures, people, and various tongues whose origin stories are not as accurate as we would want them to be.
There is a general belief that the Finnish originated from the Finns since the two have the same name and the latter are the only speakers of the tongue. Finnish is a Uralic language. It originated in the Ural Mountains of Russia. Even today, it is spoken in Russia. This is why it is not similar to the other tongues spoken in the Nordic countries. Since all Nordic states are known to share cultural values and linguistic features, it was impossible for Finnish to be any different. But its origin story clears things up a bit.
The speakers of the vernacular are known to be originated from Turkey. It is quite fascinating that the people from Turkey who speak a language originated from Russia ended up living in Northern Europe. But that isn't a reason for you to question whether Finland is real or not. Our world has thousands of similar miraculous stories to tell and there are no conspiracy theories behind any of them. Just plain old humans working their magic to create beautiful languages and cultures to keep their lives interesting. That's what you see in the world and in places like Finland where a vernacular from Russia is officially recognized by the state.