(Last Updated On: July 31, 2020)
What Languages Are the Minions Speaking?
The human mind is fascinating in everything it does. It keeps facilitating our lives. If our minds didn't come up with the ideas of all the inventions we have made so far, we wouldn't even know what we were missing. Our minds think of everything and help us prepare ourselves for the worst. It was the same mind of ours that came up with the idea of forming words together to make sentences. Without this idea, we never would have made languages and never would have been able to communicate with each other. Stringing together words is probably the most fascinating thing our minds can do.
While reading these words, you will be completely relying on the voice in your head that reads in a normal range of voice whenever you put something written in front of it. We think in words and without the proper words, we won't be able to think properly either. The thought process of bilingual people is very interesting because they sometimes start thinking in their second language instead of the one they grew up speaking. It happens when they have to speak the second language more in their daily routine than their native tongue. Those who have lived long enough in a foreign country may only resort to their native tongue when they are meeting someone from back home or when they are feeling a certain emotion like joy or anger. A lot of bilinguals are known to revert to their native tongue when they are angry.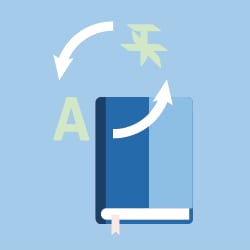 The Languages We Cannot Speak:
But even the ones who know only one language are fascinated by other tongues. Each time they hear someone speaking a foreign language, they listen attentively as if they can understand it. In a way, it is human nature to try to understand each other but when there is a barrier of some sort, we try extra hard. Languages, however, do not work that way. You cannot understand someone just by listening to them attentively when they are talking in a vernacular you don't know. Sure, there are languages that are similar and those that are mutually intelligible where the speaker of both can understand the other one without much difficulty. But mostly it doesn't work that way. Despite being closely related, a lot of languages do not share many similarities. Their origins, however, can be traced back to the ancient sources of communication. And since humans are always searching for similarities in unfamiliar situations, we do the same when we listen to a new tongue.
Authors who create a new language just for the sake of their stories are somewhat geniuses. Inventing a new vernacular with its own vocabulary is a challenging task. It involves a lot of research and a great amount of intelligence. But since people continue to do so, it is not an impossible thing. In the Lord of the Rings books and movies, every strange species from elves to orcs speak their own unique tongue. The famous One Ring from the books is also covered by the Black Speech, a tongue created by Sauron to be spoken in Mordor. J. R. R. Tolkien, the author of the Lord of the Rings, started inventing different tongues in his teenage. His Elvish languages are the most famous out of all the languages he has invented.
Another example of a new tongue in the media comes from the famous British TV show, Doctor Who. Although a lot of different alien species are shown throughout the series and they all speak different languages, they get translated thanks to the titular character's space ship. But the character, called The Doctor, has a specific tongue that is mentioned in different episodes of the show and can be seen on different surfaces inside the spaceship. It is called the Gallifreyan language and is written in the shape of clocks since the Doctor is a time lord.
What Languages are the Minions Speaking?
The different vernaculars being used in movies have made people think that there is a meaning behind everything they see on their screens. When they become a fan of something, they try to learn all about it to feel as close to it as they can. Everyone who has watched the Despicable Me movies, fell in love with the tiny yellow creatures called the Minions. With their child-like behavior, they have won the hearts of many. There is hardly any big store today where you won't find something with the faces of minions on them.
One particular thing about the creatures is the language they speak which is mostly gibberish but sometimes sounds almost understandable. This has led people to speculate whether it is a real tongue like the one created by Tolkien for the Elvish people. But in truth, the vernacular of minions is not an actual language. For the sake of the movies, words from English, French, Italian, Spanish, Hindi, and Bahasa Indonesia are taken and mixed to create the words you hear minions speaking. Since there is no shortage of the source material, words from different languages keep getting added to the vocabulary of minions. But if you are wondering if there is a particular tongue that the minions speak then the answer is no.
The internet, however, is willing to label it a separate language by calling it Minionese. You can also find guides online on how to become fluent in this weird gibberish. And who knows, you might learn a few Spanish and French words along the way.