(Last Updated On: June 22, 2020)
Merry Christmas!
It has been a great year for us but now is about the time to relax, have a look at what has been accomplished during the year and if there is anything we can do to improve.
For you – A World of Good Wishes; one of the real joys of this holiday season is the opportunity to say thank you and wish you the very best for the new year.
Merry Christmas and a Happy New Year!
In 2014 we will be here to support your business growth, your plans and dreams by any means at our disposal.
Looking for translation for USCIS?
If you're searching for a translation agency which can fulfill your requirements, and give you high-quality translation for USCIS, note that the immigration authorities do not accept anything less than accurate translations. If the quality of your translation doesn't meet their standards, this will work a big deal in delaying your process. Hence, this will waste your time only.
We have the solution to such problems. We have all that you will need for a clear and smooth immigration process. You will need certified translation and sometimes notarization is also required by USCIS. We have experienced translators who will bring out the best translation for you and at the most reasonable rates.
We are affordable and have an impressive track record of acceptance at USCIS. We work according to the requirements of the immigration office, and we guarantee that your translation will be accepted.
You can contact us anytime through our help line, or live chat option present on our website. You can visit our offices anytime during business hours, or you can place your order online. Our project managers are always available online to guide you.  As easy as it sounds, you just need to contact us and we will take care of all your translation needs.
When your translation is completed by the translator, our proofreader checks it thoroughly, and makes corrections in case any mistakes arise. The draft translation is sent to you to review it and send us your comments. Once we have your approval, we will add the translation into the original template of your document and issue our certificate of accuracy, then send both your way. This is the way the translations are best handled and there is no chance of error when the document reaches you.
The translation is sent to you by email by default. If required, we can also provide you with a hard copy which we can send over to you through mail.
All our certified translations are accepted by USCIS and we guarantee acceptance. We are a professional agency and we don't deliver anything less than our high standards.
Merry Christmas!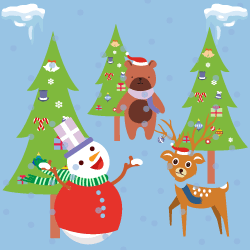 Merry Christmas
We wish you all happy holidays! Whether or not you celebrate Christmas, we hope you have a peaceful time to relax and, if necessary, recover. I want to use the moment to thank all of you for giving us feedback, and for being interested in translation in a time when that doesn't seem to be normal anymore. We always do the best to offer you high-quality and accurate translation services at reasonable rates. A special "Thank you" to our team and our valuable clients. It is encouraging to know that you value our efforts.
We will take a step back over the coming holidays and enjoy some quality time with our loved ones. We once again thank you all for the overwhelming year, and we are glad that you were, you are, and hopefully, you will be part of it! Contact us to know more about our services and get a free translation quote now!