(Last Updated On: November 11, 2023)
In today's increasingly interconnected world, the need for accurate translations between languages is more crucial than ever before. Whether you're an individual seeking to understand content in a foreign language, a business expanding its reach to German-speaking markets, or a traveler navigating through Germany, English to German language translation plays a significant role in bridging language barriers. German translation services are indispensable when it comes to maintaining an official language standard, ensuring translation quality, and meeting the language needs of various sectors. In this blog, we'll explore the use of machine translation services for English-German language translation and whether it can be considered a reliable solution.
The Translation Process: Human vs. Machine
Before we delve into the world of the translation industry and machine translation, it's essential to understand the traditional human translation process. Professional translators, often native speakers of the target language (in this case, German), meticulously translate text from a source language (English) to ensure that the translation captures the original meaning, context, and nuances of the text. The result is typically a high-quality, accurate translation. On the other hand, the translation industry has seen significant advancements in machine translation, which involves using computer algorithms and Natural Language Processing (NLP) techniques to automatically translate text from a source language to a target language. Machine translation systems within the translation industry have become increasingly sophisticated over the years, offering a wide range of translation services, from online dictionary tools to mobile apps and document translation services.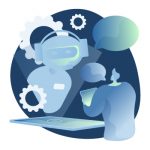 The Quality of Machine Translation
Machine translation has made significant advancements and can provide instant translations, which is undoubtedly convenient. However, the question of reliability and quality remains. Can we trust machine translation systems to consistently deliver accurate translations for English-German language pairs?
In general, machine translation has its strengths and limitations. Machine translation systems, like Google Translate and DeepL, have proven themselves quite capable of handling English to German translation. They can quickly provide translations of English text into German and vice versa. However, the quality of machine translations can vary depending on the complexity of the content, context, and the nuances of the source language.
For straightforward, everyday English translations, machine translation systems can often deliver correct and understandable results. They are especially handy for instant translation needs or when dealing with large volumes of text. However, when it comes to translating content with specific industry jargon, idiomatic expressions, or cultural references, the limitations of machine translation become apparent. In these cases, professional human translators who are experts in their respective fields are often required to ensure a correct and contextually appropriate translation.
Machine Translation vs. Human Translation: Pros and Cons
Let's break down some of the pros and cons of using machine translation versus human translation for English to German language translation:
Machine Translation (Pros)
Speed: Machine translation provides instant translation, making it ideal for quick communication and understanding.
Cost-Effective: For simple translations, machine translation is often more cost-effective than hiring a professional translator.
Availability: Machine translation is readily accessible through online translation services and apps, making it convenient for on-the-go translation needs.
nces.
Machine Translation (Cons)
Lack of Nuance: Machine translations may miss nuances, idiomatic expressions, or cultural context, leading to inaccurate or awkward translations.
Quality Variability: The quality of machine translations can vary, and there's no guarantee of consistently high-quality translations, particularly for more complex content.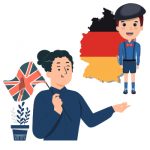 Human Translation (pros)
Accuracy: Professional human translators can provide high-quality translations, ensuring accuracy, context, and cultural relevance.
Nuanced Understanding: Human translators have the ability to understand and convey the subtleties of the source language, ensuring a more correct translation.
Human Translation (Cons)
Time-Consuming: Human translation is generally slower than machine translation, which may not be suitable for time-sensitive situations.
Cost: Quality human translation services come at a higher cost, especially for specialized or professional content.
Conclusion
Machine translation, including German Dictionary and automatic translation tools, has come a long way and can serve as a valuable tool for many translation needs. For everyday English to German translation, machine translation is a reliable solution, especially for informal and uncomplicated content. However, for high-stakes or specialized translations, such as legal, medical, or technical documents translator, and when cultural nuances are paramount, relying on professional human translators is still the best choice.
The quality of machine translation will continue to improve with advancements in technology and the availability of more language data, but it may not replace the need for human translation entirely, especially when precision, cultural understanding, and context are paramount. Whether you're using
Translation Agency or human translation, it's essential to choose the solution that best aligns with your specific translation requirements and the level of quality you demand. German translators can be invaluable for ensuring the highest level of accuracy and cultural sensitivity when translating documents from English to German, particularly in specialized fields.