(Last Updated On: November 10, 2023)
In today's interconnected world, effective communication plays a vital role in various aspects of our lives, from international trade and cross-border HR communication to diverse citizen science projects and much more. One of the crucial aspects of global communication is language, and the translation between different languages is a key factor in bridging language barriers. Among the multitude of language pairs involved in global communication, the English to German language translation holds a special place due to the prominence of English and German in various domains. English speakers in German-speaking countries rely on this translation for seamless communication. In fact, many companies designate English as their official company language to facilitate communication within their global teams. In this blog, we will explore how English to German language translation impacts global communication and aids English speakers in German-speaking countries.
Official Languages and Native Speakers:
English and German are both official languages in multiple countries, and for millions of people, they are their native languages. English is recognized as an official language in many countries, including the United States, the United Kingdom, Canada, and Australia, while German holds the same status in Germany, Austria, and Switzerland.
Accurate Translation for a Wider Audience:
To facilitate effective communication across borders and cater to a wider audience, accurate translation is essential. This is where professional translators come into play. They ensure that information is conveyed accurately from the source language (English) to the target language (German) to reach native German speakers and others who use German as a foreign language.
Language Barrier and Effective Communication:
Language barriers can be a major obstacle to effective communication. English-German translation helps in breaking down these barriers, allowing businesses, organizations, and individuals to engage with their German-speaking customers, partners, or audiences. This is particularly important in the realm of international trade, where clear communication can make or break deals.
High-Quality Translations and International Trade:
In the context of international trade, high-quality translations are of paramount importance. From complex business documents to untranslated employment documents and internal HR documents, businesses need professional translation services to ensure that the translation process is accurate and trustworthy. A single mistranslation can have costly consequences.
Diversity Question and Ethnic Diversity:
With non-English-speaking countries becoming significant players in the global economy, the instructions for customers, be it in English or German, need to address the vital diversity issue. In this context, professional language translators play a crucial role in ensuring that communication respects the diversity of the target audience, including ethnic diversity.
Swiss German and Regional Variations:
German is not a uniform language, and regional variations such as Swiss German add complexity to the translation process. Swiss German has distinct linguistic features that require special attention and understanding from English-German translators. This underscores the importance of selecting translators with expertise in the relevant language.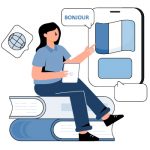 Citizen Science and Translation Mandates:
Beyond international trade, translation mandates have found their place in fields like citizen science. Cross-border projects in this area often require the translation of research findings, reports, and questionnaires. Effective translation ensures that valuable knowledge is shared across borders, contributing to global scientific advancements.
Auxiliary Language and Aviation:
Language in global aviation is another crucial aspect of global communication. English is the international auxiliary language for airplane pilots and air traffic controllers. The need for effective translation between English and German in this context is clear, as safety depends on precise communication.
Conclusion
An online dictionary is a valuable resource for English-German language translation, which plays a pivotal role in global communication. It connects English and German speakers, serves as an essential tool for international trade, and facilitates effective cross-border HR communication, citizen science projects, and various other domains. As the world continues to grow more interconnected, the importance of accurate and professional german translation online services, supported by online dictionaries, cannot be overstated. Language is the bridge, and translators are the architects who ensure that communication flows seamlessly, helping us overcome language barriers and reach a wider audience while respecting the vital diversity of our global community.