(Last Updated On: October 31, 2020)
To translate Swedish documents is a challenge even for an experienced translator. This is a difficult language and it takes much time to become fluent in it. Even native translators sometimes have difficulties considering how to translate specific terms according to the context in Swedish.
Need to translate Swedish documents?
When you need Swedish document translation, you would better use the services of a translation agency specialized in Swedish . This is the best option when you need a quality translation on time. Such agencies have employees who are fluent in various languages. Also, professional translators usually have a lot of experience and know very well how to work with the different types of texts. Working with real professionals minimizes the risk of mistakes which could cause big problems in business communication.
The Challenge to Translate Swedish into English
Swedish and English are two quite different languages. Although the Swedish morphology is similar to the English one, there are no more other similarities between these languages. The person who tries to translate Swedish into English needs to know the two languages very well in order to be able to cope with such translations. Also, such translation is better to be done by people who have experience in Swedish translation.
Use Natives from your team at your own risk
If you have a native who speaks in Swedish in your team, you might be inclined to use them to translate your documents for your Translation Agency. There are many Swedish translation services, Swedish records, and business services available. While it could be a big convenience when you need a regular translation of business correspondence, errors might occur as it's not enough to know the language in order to be a translator. For in-house, not so important documents it could be a good option, but have in mind that for the really important documents it is reasonable to use the services of a translation Agency. This will guarantee you the best results. Also, your employees will be able to pay attention to their regular tasks. They will not have to waste their time on trying to handle a challenging translation of documents in Swedish.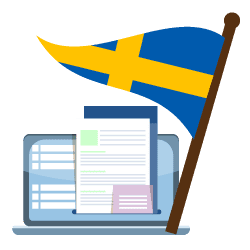 Translate Swedish Documents
When you have to visit a government office or a college or university's admission office, you dress nicely and make sure you look presentable. Everything has to be perfect in such a scenario. Most people buy a new envelope to take their documents with them so that they don't get damaged during the journey. But when it comes to getting those documents translated, some people compromise on the quality ignoring the fact that immigration offices and university admission departments accept only the most accurate translations.
If you need Swedish translation services documents, then you must first know that Swedish is a very complex language and it is not easy to translate. Those who have years of experience in translating Swedish can translate Swedish documents into English for you. Because it is not just about the accuracy of translation but also the format of the document, close attention should be paid to the details during the process of translation. Some translation Agency do the work very well in the edit source document. Professional Swedish with certified translation services can do far better than any freelancer. Native translators know the technical translation and are able to do legal document translation better. They are more cost-effective. Such Swedish Interpreters are available at NordicTrans. Swedish translation services content for the target audience should be interpreted by native speakers of Sweden.
Our Swedish Typesetting translators are equipped with industry-specific knowledge and experience, so you have the most qualified Swedish document translation team for any industry in our Translation agency. NordicTrans provides Swedish to English translation in all of these industries, including:
We provide quality Swedish document translation from Swedish Speakers.
We can translate Swedish typesetting engineering documents, circuit boards, hardware, and more.
We provide Swedish Typesetting to Business services operating globally. Our Native language Speakers know the Swedish Language well and have Swedish Records.
Technical Swedish translation for software and hardware installation, user texts and guides, software provider websites, and other electronic information needing professional translation.
Swedish English marketing and PR translation for advertising to Canadian, American and UK audiences regarding Swedish-made products and services.
Medical Swedish to English translation, pharmaceutical translation, and Swedish health care translation for things like medical directions, medical histories, medicines and vaccinations, and medical transcription-translation. Swedish translation services for edit source, Nordic languages are provided by Nordic Trans.
Swedish to English business document translation for manufacturing packaging, outgoing shipments and receiving, labels, and more.
Our Translation Company provides Standard translation services, Swedish records with well-equipped translation management. We have Professional Swedish speakers, Nordic languages who do Swedish Voiceovers, Swedish website localization, edit source of product descriptions. Our Certified Translation services are impeccable in means of quality and translation rates. We also provide a Customer service center to understand our client's requirements of all types of documents.
Legal Swedish-English document translation for birth and marriage certificates, visas and green cards, business permits, international organizations translation, titles, and records, etc.