Marriage Certificate Translation
Do you have a marriage certificate that needs to be translated for you to clear immigration? Do you need translation experts who would make a translation that will be cleared by the USCIS office? Are you looking for a company that provides marriage certificate translation services at affordable rates? We are here to help you out. NordicTrans is one of the best translation services when it comes to family documents that need to be ready for the immigration process, be it in the UK or in the US.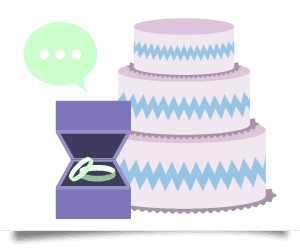 What is a marriage certificate?
A marriage certificate is a certificate that is issued by governments all over the world after a legal marriage ceremony, stating that two people have now joined in a bond that they will uphold for life and remain together till death. Such documents are intertwined with the religion and culture of the signatories' native land. If you are a Muslim Pakistani; your marriage certificate will look different. If you are a Muslim Arab, it will have similar religious undertones, but the outlook and language will still be different. If you are from the Asia Pacific, then your marriage certificate will be different and if you are Catholic then it will look different. Each country has its own, official marriage certificate template which is different from country to country.
When it comes to immigrating in another country like United States or United Kingdom, you will need to have your marriage certificate translated and certified according to the rules of each country. This is where we can help you: if you want it for the US, our Miami translation office will translate it, if you want to immigrate in the UK, our Birmingham office will translate and certify it for you.
Are you worried about how standardized your marriage certificate translation should be so that it will clear immigration? Worry not; NordicTrans is here to make sure that you get the best certified translation that you need. During the translation process, we make sure that we follow the rules and regulations imposed by the office who requested the translation. We are also able to provide notarized translations whenever needed, so that your certificate will be cleared by the immigration office like a breeze.
The advantages in getting a marriage certificate translation from us
Certified translation
We have a strict process to ensure that you get the best marriage certificate translation services for both UK and US. If you're in the US, all documents that are submitted to the USCIS office have to be translated and certified if they're not in English. Similar, in the UK, you need to have the same. Obviously, each country has its own rules, but we are able to accommodate both as we have an office in UK and another one in US just for that.

Any language, at the best rates
With over 3000 translators in our midst, we are able to do just about any language. Although we specialize in the Nordic languages, we do have resources to take on any project. We do certified translation of marriage certificates from any language into English, and we have one of the lowest rates in the market. With us, you can have your certified translation done in 24 hours or less, and it will cost you only 20, no matter if you need translation from Chinese or Spanish.

Ready in 24 hours
We know that quality is the first thing a client is looking after, the second is the price and the third is the time it takes to deliver. While it may be hard to come by a translation company to offer the first 2, it's even harder to get all three. We are proud to offer fast translation services (certified translation in 24 hours or less) which come in high quality (with guaranteed acceptance at the Immigration Office) and at a low cost.
Certified translation of marriage certificates
Marriage certificates are written in a variety of languages, diverse style and have legal requirements and rules that are sometimes unique to the country where they have been issued. Marriage is the strongest of the bonds and a great social contract. The marriage certificate will bring in the culture and land that it represents in form of legal rules and regulations of the native land. Many of these rules and regulations will be specific to its people and many people will find them surprising due to unfamiliarity with the culture that they represent.
We provide certified translation of marriage certificates no matter in each country the originals have been issued. This means that along with the translation, we also provide you with a certificate of accuracy. The certificate is deemed compulsory by the USCIS office in he United States and by the Immigration Office in the UK as it insures that the translation is a true representation of the original document.
We ensure that the translated document we provide adheres to all the regulations of the immigration laws in UK and US. We have a second translator who reviews the first translator's work and ensures that no mistakes are made in translating the document. We go through a double check because not only do best minds also make mistakes but also simply because we want to make sure there will be no issues with our translation.
Affordable, high quality services
Marriage certificates are not the only personal documents we can translate for you. With us, you can have any of your documents translated and certified, including:
  Academic Degrees
  Medical Records
  Passports
  Driving Licenses
  Police Records
NordicTrans is one of the best agencies to get certified translation of marriage certificates from. We have an excellent team that will take care of your marriage certificate translation. Get in touch and see what we can do for you.