(Last Updated On: June 22, 2020)
It might sound like a wonderful thing to know many languages and to be able to understand various people.  And it is indeed… most of the time. However, the life of a translator often offers a lot of challenges which you have to handle.
The life of a translator
Thinking in Many Languages
The moment when you really start getting to know a language is when you no longer think in your native language and then try to translate. But imagine a professional translator who works with more than one pair of languages. It is hard to quickly switch to the language which you need, especially if the situation requires your immediate reaction.
Choosing What Type of Translation to Deal with
An important step in the life of a translator is to choose what types of translation to make, e.g. scientific, legal, financial, technical, certified, literary, general and so on. All of these require specific skills to work with a text and organize it.
Strict Deadlines
A hard part of being a translator is that you usually have to meet strict deadlines. Many clients demand having their translation as soon as possible and you really need to have very good management skills to cope with this. You need to be able to concentrate quickly and remain focused for a long time.
An Employee or an Employer?
Many businesses and organization need translation services, so it is not hard to find a job if you are really good at what you do. Some of the translators choose to make their own business and hire other professionals. This might be a successful strategy only if you are really able to organize people and communicate efficiently. If you prefer just to focus on the words and stay away from dealing with too many people, it is better to be someone's employee. Having a power as a boss also means having a lot of responsibilities and not everyone will be able to handle them. Having the life of a translator is challenging enough and you really do not need to make it harder.
Life Of A Translator
Life is pretty hard for everyone these days, and life of a translator is no exception. With bills, expenses and relationships to manage, they too struggle a lot. Even their job isn't as easy as it sounds. A common perspective among masses is that since translators have the skill to translate words from one language into another, they have a quite rosy life. This is absolutely not true. On the contrary, even while translating, they have to be very particular about not making a mistake, not even a single one.
Every document that needs to be translated contains information, information that cannot be messed up, this is why, a translator is always cautious. Furthermore, with translations of documents with formatting or digital marketing translations, they need assistance from software specialists and marketing gurus. However, if a translator enjoys his work and loves what he does, then it sure becomes easier for him.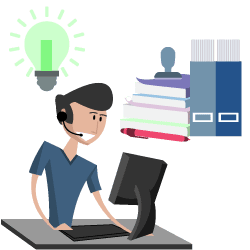 Just because you work as a translator, people think you know the meaning of every single word, and assume you to translate everything on the spot; as if we're some walking dictionary. These are some high expectations because language isn't just a collection of words! Culture and context are an integral part of the translation and have to be considered, to translate the meaning. Translators have to look up terms, search for phrases and uncover expressions for the language they are turning into, which is extremely difficult and it often demands extra research.
As with any other profession, the life of a translator has its ups and downs. While most of the time you're supremely happy with your preferred career, sometimes it can all become too much to deal with. Luckily, you can just leave your computer and go for a walk in search of a little fresh air and inspiration.