(Last Updated On: June 22, 2020)
English to Danish translation services are really popular nowadays because many people have businesses that involve the two countries. These languages are becoming much needed in the field of various sectors in the societywhich is why many language translation companies have risen on the internet as many people need their help when it comes to translating important documents. Translation services are really important since it helps businesses to do improve by being a catalyst in making other people understand business from other countries.
English to Danish translation at affordable rates?
However, although there are many companies that provide these kinds of services online, you need to know which are credible enough to lend your documents with since not all of them are legitimate and not all of them are professionals just because they seem to be so. Moreover, English to Danish translation can be quite difficult so you really need to entrust your articles to someone who can do the things at a faster time but with an affordable rate. There are things which can prompt you to get affordable Danish translation rates such as bulk ones.
There may be companies which can give you discounts because you give them many tasks to do so. Also, if you have been a regular client to them, they can also give discounts since they know that you will always give these companies tasks regularly. Plus, there are many translation services online which can give you affordable rates that depend on the document you want them to translate because these will depend on how hard or how long the documents needed to be translated would be.
Online Danish translation agencies are very helpful to a lot of businessmen and workers because it can get the job done faster and more effective.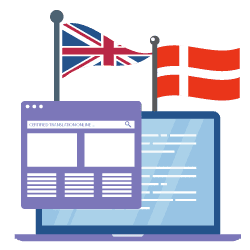 English To Danish Translation
Whether you want a Danish version of your English website or want an English legal document to be written in Danish, you'll need an English to Danish translation service. Depending upon the nature of your requirement, you may want a localization expert, medical specialist or a legal interpreter but the translation aspect will never move away from the picture. So it's quite obvious that you'll want a service that is reliable, authentic and offers quality with affordability.
At Nordic Trans, we understand this and may other similar concerns of our customers, which is why we have devised our rates considering all those factors. Our team has diverse expertise and we are well versed in all Nordic languages no matter what kind of translation project is given. You can always rely on Nordic Trans as we offer translation services in all European languages and our translations are carried out by native translators. Our process is thorough and we double check every document with proofreading before submission.
If you are looking for a professional and reliable English to Danish translation service, your search is over. NordicTrans as a Danish translation agency is here to cater to your needs. With our highly qualified and top-rated translators, we provide English to Danish and Danish to English translation services. The market is overwhelmed with different other companies, but we as an agency are recognized one by our mission, vision, and excellence as a certified Danish translation company.
For all your document translations in Danish, NordicTrans provides unique and high-quality services. The translation services we offer are affordable, accurate, and consistent, and serve as a one-stop solution for all your translation needs in the Danish language.
We employ only native Danish translators for all our projects. The 100% native Danish translators possess excellent expertise in the language and also have additional domain experience in various fields including medical, technical, banking, IT, telecommunication, legal, automobile manufacturing, education, etc.